Étape: 20 Great Stages From the Modern Tour de France
The 719Ride.com Book Review
Étape, 20 Great Stages From the Modern Tour de France, is an engrossing celebration of the Tour de France (TdF). It reanimates memorable stages and moments, mostly from the late 1980s through 2012, and it's a masterwork of cycling history and storytelling.
Like a breakaway that sticks and stays away, Étape attacks hard from the start and doesn't let up until the finish. Each chapter has its own objective, and each chapter delivers, while also working smoothly together as part of the bigger picture. It's a fluid, fascinating and fast read.
In the case of this literary "breakaway", every type of rider, rather than every team in the peloton, is represented: puncheur, grimpeur, rouleur, time trialist, sprinter, all-rounder, and opportunist. Étape is a canvas for teamwork and tactics, personalities and frailties, drive and determination, and it's revelatory.
Moore fuels his breakaway with fresh perspective and untold stories from the protagonists themselves. It's an experience akin to a favorite uncle regaling his nieces and nephews with adventure stories, but in Étape our uncle has invited friends over to delight us: Chris Boardman, Bernard Hinault, Wilfried Nelissen, Mark Cavendish, Eddy Merckx, Claudio Chiappucci, Andy Schleck, David Millar, Greg LeMond and more.
Our "breakaway of uncles" has us attacking and counterattacking, riding in the grupetto, riding behind the grupetto, winning on L'Alpe d'Huez and experiencing the race in a uniquely personal manner. Moore and his "friends" personalize the heartache, animosity, frustration, opportunity, redemption, animosity, glory and fury that is La Grand Boucle.
With each chapter Moore introduces us to a man in the break, and the rider's experience of the stage: before, during and after. Rather than recycling anecdotes or reconstructing events from already published accounts Moore lets each rider do the talking. He spoke with everyone featured, including two five-time Tour winners, a three-time winner, a one-time winner, and a former seven-time winner.
Chapter 9 of this Tour de France tour de force focuses on stage 17 of the 1984 Tour. Won by 23-year-old Tour débutante Luis "Lucho" Herrera, this stage, from Grenoble to L'Alpe d'Huez, is the first victory by a Colombian at the Tour de France.
The chapter unfolds with the history of the Colombians arrival in the European peloton in the 1970s and 1980s, before tackling Herrera's Alpe d'Huez victory — a success presented within the context of the duel between Hinault and Laurent Fignon, "the demigods of cycling in that era" and "the greatest French rivalry since Anquetil and Poulidor." In this setting Herrera's victory is diminished and Alpe d'Huez stands less tall. But this book isn't about the Great Wall of Oisans, so the latter isn't a surprise.
The inclusion of Herrera's Alpe d'Huez success in Étape's top-step performance is serendipitous. In 2019, nearly 50 years after Colombians began racing in the European peloton, Egan Bernal became Colombia's first Tour de France champion. He also became the youngest TdF winner in more than 100 years and the third youngest in history.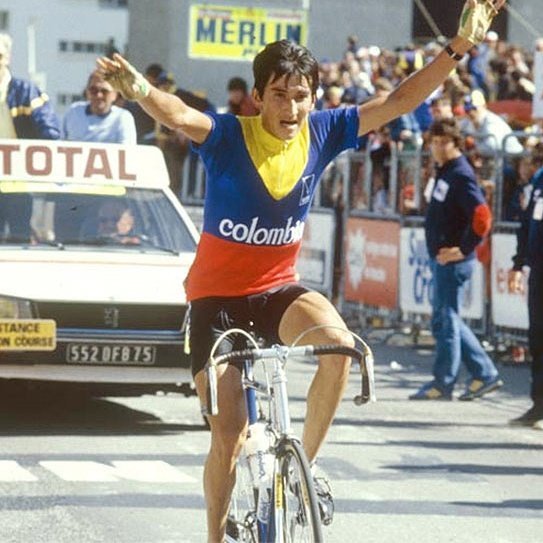 Upon arriving in Europe, the Colombians were met with prejudice and harassment, treated with disdain, and failed to perform as anticipated. It was an uphill climb to acceptance that today's Colombian riders have benefited from and capitalized on.
Back in Herrera's time, any ideas of the lightweight Colombian grimpeurs conquering Europe like conquistadores and subduing the natives with their climbing prowess quickly evaporated. Although they did have some success, the Colombians as a whole were unfamiliar with race tactics, unprepared for the physicality of European racing, and tended to ride at the back of the pack, where they got caught up in more crashes. Their inexperience kept them out of the pointy end of the peloton and off Grand Tour podiums.
That is hardly the case today. Adding to Herrera's 1987 Vuelta d'Espana victory, Colombians Rigobert Urán, Esteban Chaves, Nairo Quintana and Egan Bernal each have stood on a Grand Tour podium multiple times since 2013. Quintana won the Giro d'Italia in 2014 and the Vuelta in 2016, and he and Urán collectively finished second in the Tour three times, but the top step in France eluded Colombia until Bernal's yellow jersey.
The Colombians were an unknown quantity when they first came to Europe and their climbing palmarés were not fully appreciated. They are known now. And respected.
Overall, Étape wears the yellow jersey from start to finish and takes multiple stage wins en route to a wide victory margin in Paris.
Heroes and villains, stars and water carriers — the giants of cycling stride the epic stage of the Tour de France each year in search of lasting glory. Critically acclaimed author Richard Moore explores their untold stories and infuses them with vivid life to reveal the beauty and madness of the world's greatest bike race.
Featuring exclusive new interviews with the Tour's icons and scoundrels, Étape unravels lingering mysteries and recounts strange tales from 20 great stages of recent Tour history: Greg LeMond's impossible return from near death. Andy Schleck's primal scream atop the Col du Galibier. Eddy Merckx's self-described Tour. Mark Cavendish's mind-bending victory in Aubenas. Bernard Hinault's hellish battle with Laurent Fignon.
Extraordinary feats. Diabolical deeds. Heroism and deceit. Farce and tragedy. Étape celebrates the Tour de France as an unrivaled mythmaker, where courage, scandal, skill and drama create the sport's enduring legends.